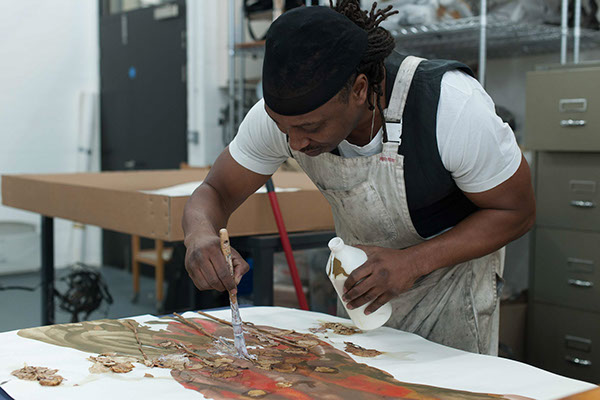 Within my current practice I use a conscious 'mash up' of film, video, drawing, combined with live performance. My work explores the intricate connections between the body and our experience of the modern environment, and I communicate this through bold interactive art, also using urban and rural landscapes as my canvas.
I am an artist who grapples with a new dimension in drawing and demonstrates an extraordinary dedication to producing large-scale work in the natural environment. The 'Walking Drawing' artworks have a participatory approach and explore mark making - on an immense scale - using people (and Cumbrian Heavy Horses) as 'pencils' writing their stories into the Earth. These works were located in the British Isles reinterpreting remotely found landscapes and spaces.
I am also concerned with socio-political issues of place,space and the movement of peoples. My current work '100 Black women' explores gender, race and size-ism and uses large scale mixed media, drawings and sculpture to raise questions about the role and place of black women in today's society.
My research interests are Black British History, migration,identity and the development and expansion of the language of drawing in combination with film and sculpture.

After studying graphic design at Middlesex University, Wright went on to train as an artist at Central St Martins. His exhibitions include: Royal Academy of Arts Exhibition, London,Jeanne Kahn Gallery 2012 and Porters Gallery 2014. Trinidad and Tobago Film Festival, Medulla Art Gallery, Port of Spain, Trinidad and Tobago, 2013,Nominated for the Young Masters Art prize 2014. ELECTRONICS ALIVE VIII Biennial, Tampa Florida USA 2015, Ripon Cathedral. Great North Art Show 2015, Guildhall Gallery. No Colour Bar Exhibition 2015.